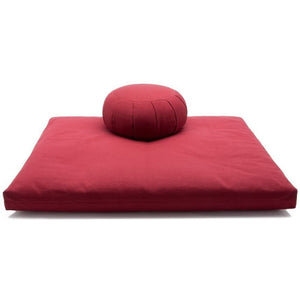 This is an affiliate link to Amazon on which we may earn a small referral sale commission at no extra cost to you.
The Zafu and Zabuton Meditation Cushion set includes one Zafu (round cushion) filled with your choice of buckwheat hulls or kapok, and one Zabuton (rectangular mat) filled with cotton.

The Zafu is traditionally associated with Zen meditation. It is used during meditation or yoga practice to support your sitting posture. The Zabuton is a perfect accompaniment to the Zafu to protect the knees and feet on hard surfaces and to insulate the body from cold surfaces. This set comes in a variety of colors. 

Best Features:
Buckwheat or Kapok filling Kapok, a plant fiber, will not lump or mat like cotton and is more resilient. Kapok provides firm support, while buckwheat hulls conform to the shape of your body. The air pockets between the buckwheat hulls permit airflow to keep you cool. 
Removable, Washable covers when you choose the Deluxe version