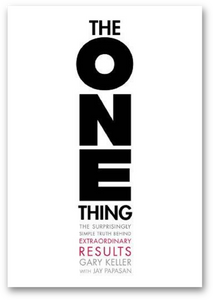 This is an affiliate link to Amazon on which we may earn a small referral sale commission at no extra cost to you.
Book Title: The ONE Thing: The Surprisingly Simple Truth Behind Extraordinary Results
Author: Gary Keller and Jay Papasan
Genre: Personal Development
Released: 2013
Book quote:
"...if you want to get the most out of your day, do your most important work—your ONE Thing—early, before your willpower is drawn down. Since your self-control will be sapped throughout the day, use it when it's at full strength on what matters most"
Description:
People are using this simple, powerful concept to focus on what matters most in their personal and work lives. By focusing their energy on one thing at a time people are living more rewarding lives by building their careers, strengthening their finances, losing weight and getting in shape, deepening their faith, and nurturing stronger marriages and personal relationships.