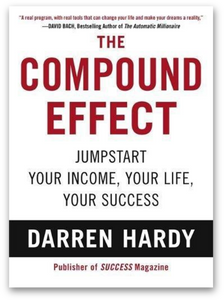 This is an affiliate link to Amazon on which we may earn a small referral sale commission at no extra cost to you.
Book Title: The Compound Effect
Author: Darren Hardy
Genre: Personal Development
Released: 2011
Book quote:
"It's not the big things that add up in the end; it's the hundreds, thousands, or millions of little things that separate the ordinary from the extraordinary."
Description:
The New York Times and Wall Street Journal bestseller, based on the principle that little, everyday decisions will either take you to the life you desire or to disaster by default. If you're serious about living an extraordinary life, use the power of The Compound Effect to create the success you want.