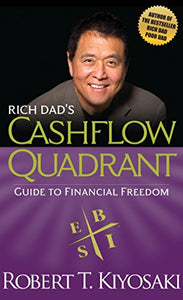 This is an affiliate link to Amazon on which we may earn a small referral sale commission at no extra cost to you.
Book Title: Rich Dad's Cashflow Quadrant: Guide to Financial Freedom
Author: Robert T. Kiyosaki
Genre: BUSINESS & ECONOMICS
Released: 2011
Book quote:
"Trust that you have everything you need right now to be successful financially. All it takes to bring out your natural, God-given gifts is your desire, determination, and a deep faith that you have a genius and a gift that is unique."
Description:
Rich Dad's CASHFLOW Quadrant is a guide to financial freedom. It's the second book in the Rich Dad Series and reveals how some people work less, earn more, pay less in taxes, and learn to become financially free. This book will change the way you think about jobs, careers, and owning your own business and inspire you to learn the rules of money that the rich use to build and grow their wealth.