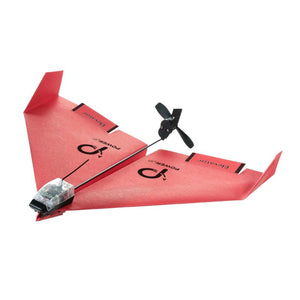 This is an affiliate link to Amazon on which we may earn a small referral sale commission at no extra cost to you.
The POWERUP 3.0 device attaches to your home-made paper airplane, allowing it to fly further and longer by remotely controlling it with your smartphone.
How do I use it?
Download the phone app and follow the instructional videos to ensure you get the best experience out of this kit. Basically you will need to fold a proper paper airplane and then attach the kit which consists of a rudder and propeller assembly. After you have synced the app, you will need to trim it and learn how to control it with your smartphone. Once you have mastered these steps, you can enjoy up to 10 minutes of flying time per charge.
Best features
Relive one of your favourite childhood memories, on steroids. This takes old-school to a whole new level.
This is not just a straight-out-of-the-box toy. You get to be part of the process of designing and tweaking your airplane for optimal flight performance and enjoyment.
Keep in mind
It will not be plain flying from the get-go. It will require a bit of practice and patience to get the hang of this thing.