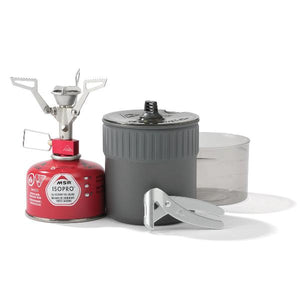 This is an affiliate link to Amazon on which we may earn a small referral sale commission at no extra cost to you.
The MSR PocketRocket 2 Mini Stove kit is an ultra-compact and light cook and eat kit for solo backpacking, hiking or camping. The PocketRocket 2 stove is best for boiling water fast, so in just a few minutes you will have hot water to make yourself a hot beverage or meal from dehydrated or freeze-dried food.

Stove Kit includes:
0.75-liter aluminum pot

16-ounce bowl

clear lid with straining ports

ultralight mini pot lifter

stuff sack
How do I use it?
To operate the stove is simple. Fold out the pot stand arms of the stove and make sure the stove is turned off. Screw the stove directly onto an isobutane-propane canister. Use the toggle to turn the stove on and light it up. Note that you are going to need your own fire-lighter as it does not come with a built-in ignitor. Place your pot on the stove and start cooking. In just a few minutes you will have boiling water.
Best features
Ultralight and compact at 2.6 ounces
Versatile - the pot-support can accommodate a wide range of pot sizes and styles.
Keep in mind
Noisy when the stove is being used.
Not suitable for large groups (recommended for 1 - 2 people).
Independent Review
Lone Crow Adventures gives an honest review and demonstration of the MSR Pocket Rocket 2 stove.

Independent reviewers are not associated with and have not been compensated by Indie Bravo. The reviewer has given permission for us to share this video for your benefit.