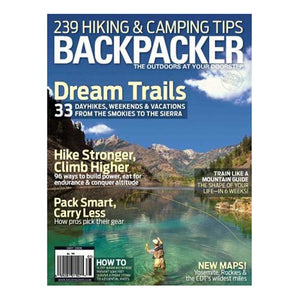 This is an affiliate link to Amazon on which we may earn a small referral sale commission at no extra cost to you.
Format: Annual Printed Magazine or Kindle Subscription

Backpacker magazine helps you get ready for your next outdoor adventure, while also inspiring you to start planning those once-in-a-lifetime camping and hiking trips you've dreamed about for years. From practical tips to motivating stories about major excursions, this magazine has everything the serious outdoor enthusiast needs and wants to know about hiking and backpacking. The primary focus is on out-of-the-way or unusual North American locations for backpacking and camping, but the magazine occasionally covers international trips and other human-powered outdoor activities, such as canoeing or cross-country skiing.

Whether you're interested in multi-day backcountry adventures or day hiking trips with a few friends, Backpacker magazine gives you the information you need to know to get on the trail and enjoy the wilderness.