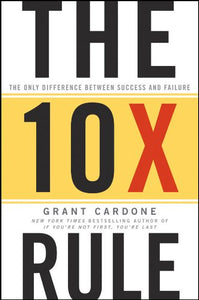 This is an affiliate link to Amazon on which we may earn a small referral sale commission at no extra cost to you.
Book Title: The 10X Rule: The Only Difference Between Success and Failure
Author:  Grant Cardone
Genre: BUSINESS & ECONOMICS
Release Date: 2011
Book quote:
"Your thoughts and actions are the reasons why you are where you are right now."
Description:
Extreme success is by definition outside the realm of normal action. Instead of behaving like everybody else and settling for average results, take Massive Action with The 10 X Rule, remove luck and chance from your business equation, and lock in massive success.
Independent Review
Vinnie from
Vinnie Rodriguez
explains why this is one of the most impactful books he has ever read.

Independent reviewers are not associated with and have not been compensated by Indie Bravo. The reviewer has given permission for us to share this video for your benefit.