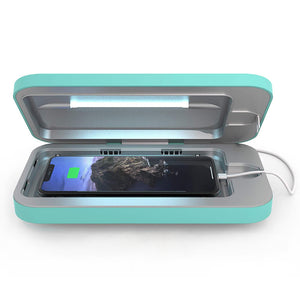 This is an affiliate link to Amazon on which we may earn a small referral sale commission at no extra cost to you.
The PhoneSoap 3 UV Smartphone Sanitizer cleans and sanitizes your phone while it charges.

Why do I need to clean my phone?

Your phone is 18x dirtier and contains more harmful bacteria than a public toilet. We wash our hands but we never wash our smartphones. We forget whatever our hands touch we pass on to our phones which are the perfect breeding ground for bacteria.
Does this really work?

This unit houses two scientifically proven germicidal UV-C bulbs that completely sanitize your entire phone, killing 99.99% of all bacteria and germs. PhoneSoap's revolutionary bacteria-zapping technology was featured on ABC's Shark Tank and tested and proven effective on the Discovery Channel.

Best features
UV sanitizer kills 99.99% of germs
Safely sanitizes anything that fits inside
Cleans within 10 minutes
Universal charger for any device