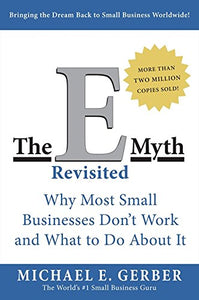 This is an affiliate link to Amazon on which we may earn a small referral sale commission at no extra cost to you.
Book Title: The E-Myth Revisited: Why Most Small Businesses Don't Work and What to Do About It
Author: Michael E. Gerber
Genre: BUSINESS & ECONOMICS
Released: 2004
Book quote:
"Because, the moment you chose to start a small business,.. you unwittingly chose to play a significantly larger game than any game you had ever played before."
Description:
An instant classic, this revised and updated edition of the phenomenal bestseller dispels the myths about starting your own business. Gerber walks you through the steps in the life of a business—from entrepreneurial infancy through adolescent growing pains to the mature entrepreneurial perspective: the guiding light of all businesses that succeed—and shows how to apply the lessons of franchising to any business, whether or not it is a franchise. Most importantly, Gerber draws the vital, often overlooked distinction between working on your business and working in your business.